EtherAuthority Emerges as a Leading Blockchain Security and Smart Contract Audit Provider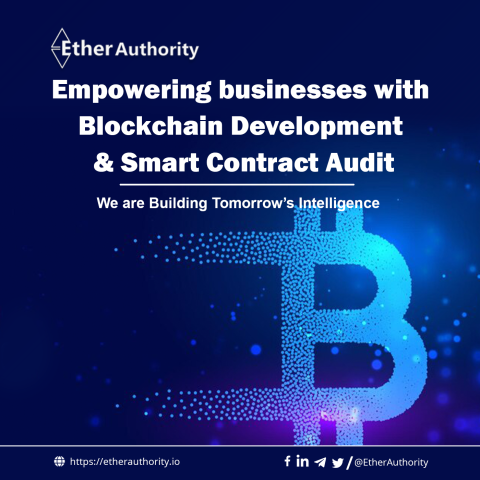 New Delhi, INDIA – EtherAuthority, a reputed smart contract audit company that reviews complex solidity codes, is pleased to announce its emergence as a leading global blockchain security company. Since its inception in 2018, EtherAuthority's engineering team has been helping blockchain businesses to secure their smart contract-based assets through their innovative and comprehensive smart contract audit services.
As the use of blockchain technology becomes increasingly mainstream, there has been a growing demand for blockchain audit firms to help ensure the security and reliability of decentralized applications. EtherAuthority has responded to this need by offering a range of services including Smart Contract Development, Smart Contract Intensive Audit, Public Blockchain Development, and Web3 Security.
Their services are aimed at Dapp owners, Token owners, blockchain developers, Crypto Owners, and Smart Contract Users. EtherAuthority's team of experts provides top-notch smart contract auditing services that cover all aspects of blockchain and smart contract security. They are the go-to blockchain audit firm for clients looking for the best smart contract auditors.
As a trusted blockchain security auditor, EtherAuthority has conducted several security audit assessments, enabling clients to identify and mitigate security risks, thereby strengthening their security posture. Their smart contract audit reports provide detailed insights into the potential security vulnerabilities of a Dapp, token or smart contract. This helps clients to optimize smart contracts, identify and manage crypto vulnerabilities, and make decentralized applications more secure.
One of the key strengths of EtherAuthority is its ability to provide high-quality smart contract audit services at an affordable price. They offer smart contract audit services for tokens at competitive prices, making it easier for clients to get the best value for their money. As one of the best smart contract audit companies, EtherAuthority is committed to delivering reliable and cost-effective solutions to meet the needs of its clients.
Commenting on the company's success, the spokesperson for EtherAuthority said, "We are delighted to emerge as a leading blockchain security and smart contract audit provider. Our team of experts has worked tirelessly to provide our clients with top-notch smart contract auditing services that help to secure their assets. We are committed to delivering reliable and cost-effective solutions to meet the needs of our clients, and we look forward to continuing to provide innovative blockchain security solutions to clients worldwide."
EtherAuthority is a leading blockchain security company that has earned a reputation as a trusted blockchain and smart contract audit provider. Their commitment to providing innovative solutions that meet the needs of their clients has helped them to emerge as a leading global blockchain security company. For more information about their services, visit their website at https://etherauthority.io/.
YouTube: https://www.youtube.com/watch?v=in2tUmoYihE&t=4s.
Media Contact
Company Name: EtherAuthority
Email: Send Email
Country: India
Website: https://etherauthority.io/