Larsic's multi-purpose stove cover helps protect electric and induction stove tops from scratches, spills and cracks
Larsic's thick, foldable and anti-slip rubber sheets protect expensive electric and induction stove tops from damage.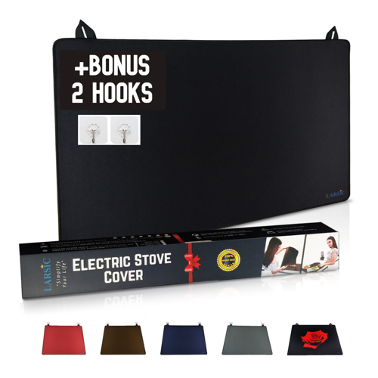 Larsic's stove tops increase the longevity of expensive cooking ranges.
Larsic is a leading name in the stove accessories manufacturing industry, using only the highest quality materials for manufacturing their signature rubber stove covers. These stove top covers are compatible with electric and induction cooking ranges from leading brands such as Ikea, KitchenAid, and Haier.
The Larsic stove covers offer effective protection against dust, grime, stains, spills and scratches to your stove tops. They are especially beneficial to be used in houses with pets and children as their heat-protecting properties save from burns or heat-related injuries. Their anti-slip coating makes them resistant to pulls and tugs, rendering them safe for use in a household with kids and pets.
Expand workspace in small kitchens
In smaller apartments with cramped kitchen space, it makes sense to invest in kitchen accessories to help expand the working space. Larsic's thick rubber stove covers can be laid on top of cooking ranges for additional counter space for food preparation or other activities.
Easy to clean and easy to store
These rubber stove covers are designed keeping optimum storage in mind. Their foldable design allows them to be neatly and conveniently tucked away when not in use, which makes it quite convenient. The Larsic stove covers are extremely easy to clean; they can be folded to fit any dishwasher rack and thus can be cleaned within minutes.
Conclusion
Larsic is a trusted brand in the stove accessories industry. Their best-selling rubber stove covers help protect cooking ranges from dust, dirt and scratches while also serving as additional kitchen counter space. These stove covers are easy to store and clean and come in various designs, colours and sizes, and are compatible with most cooking ranges from leading brands.
For more information or details, Larsic can be reached via the details provided below.
Media Contact
Company Name: Larsic
Contact Person: Leon
Email: Send Email
Country: United States
Website: Larsic.com