Multiple Myeloma Market Share, Size, Global Forecast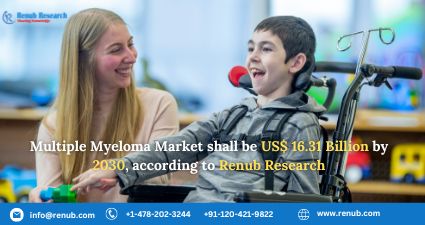 Multiple Myeloma Market, Size, Global Forecast 2023-2030, Industry Trends, Growth, Share, Outlook, Impact of Inflation, Opportunity Company Analysis" providing a detailed industry analysis that includes market share insights. In addition, the report covers research on competitors and regions and current advancements in the multiple myeloma market. The Multiple Myeloma Industry shall experience a CAGR of nearly 6.04% from 2023 to 2028
Renub Research has recently released a report titled " Multiple Myeloma Market, Size, Global Forecast 2023-2030, Industry Trends, Growth, Share, Outlook, Impact of Inflation, Opportunity Company Analysis" providing a detailed industry analysis that includes market share insights. In addition, the report covers research on competitors and regions and current advancements in the multiple myeloma market. The Multiple Myeloma Industry shall experience a CAGR of nearly 6.04% from 2023 to 2028. The increasing prevalence of multiple myeloma is aiding the rise of the multiple myeloma market.
American Society of Clinical Oncology (ASCO) projects that approximately 35,730 adults in the United States, comprising 19,860 men and 15,870 women, will receive a multiple myeloma diagnosis in 2023, with an estimated 12,590 deaths, including 7,000 men and 5,590 women, resulting from the disease in the same year. The aging population worldwide has also contributed to the development of this market. The United Nations Population Division's new world population report estimates that the number of people aged 80 or over is projected to triple, from 157 million in 2022 to 459 million in 2050.
Moreover, the availability of advanced diagnostics tools and the development of novel therapies have improved the survival rate of multiple myeloma patients, leading to increased demand for these treatments. For instance, Takeda carried out Phase I/Phase II multicenter trials in December 2022 to examine the safety, efficacy, tolerability, and immunogenicity of Modakafusp Alfa in patients with relapsed or refractory multiple myeloma. Additionally, the increasing adoption of targeted therapies and the use of combination therapies have also contributed to the growth of the multiple myeloma market.
Furthermore, the rising investments in research and development activities by pharmaceutical companies and academic institutions have resulted in the development of more effective and efficient treatments for multiple myeloma. For example, in March 2022, Sanofi entered into a strategic collaboration with Blackstone on a risk-sharing basis. As per the collaboration, Blackstone Life Sciences would invest up to EUR 300 million (USD 320.51 million) to expedite the pivotal global studies and clinical development program for Sarclisa, an anti-CD38 antibody, for treating multiple myeloma patients via subcutaneous formulation and delivery. Lastly, the increasing awareness about multiple myeloma and the availability of treatment options among patients and healthcare professionals have also contributed to the growth of the multiple myeloma market.
Targeted Therapy dominance in the multiple myeloma market due to Selective Cancer Cell Targeting and Personalized Treatment Plans with practical outcomes
The reason for the dominance of targeted therapy in the multiple myeloma market is its ability to selectively target cancer cells while sparing healthy cells, resulting in fewer side effects and better outcomes for patients. Additionally, targeted therapies can be customized to a patient's specific cancer type and genetic profile, allowing personalized treatment plans.
Another factor contributing to the dominance of targeted therapy in the multiple myeloma market is its effectiveness in treating multiple myeloma, with many targeted therapies showing high response rates and improved survival rates in clinical trials. Finally, the approval of several new targeted therapies for multiple myeloma in recent years has expanded treatment options for patients, further contributing to the growth and dominance of this market segment.
Aging Population of Females is increasing the prevalence of Multiple Myeloma in Women, benefiting the multiple myeloma market
The growth of female patients in the multiple myeloma market can be due to increased awareness and early disease diagnosis among women, leading to better detection and treatment. Moreover, as the population ages, more women are developing multiple myeloma, and the risk of the disease increases with age. Furthermore, an increasing number of clinical trials are focusing on the study of multiple myeloma in female patients, which is helping to improve our knowledge of the disease and provide more efficient treatment alternatives for women.
Media Contact
Company Name: Renub Research
Contact Person: Rajat Gupta
Email: Send Email
Phone: +1-478-202-3244
Address:Roswell, GA 30076 http://www.renub.com/
City: Roswell
State: GA
Country: United States
Website: https://www.renub.com