Psoriasis Pipeline, Clinical Trials and Emerging Therapy Assessment by DelveInsight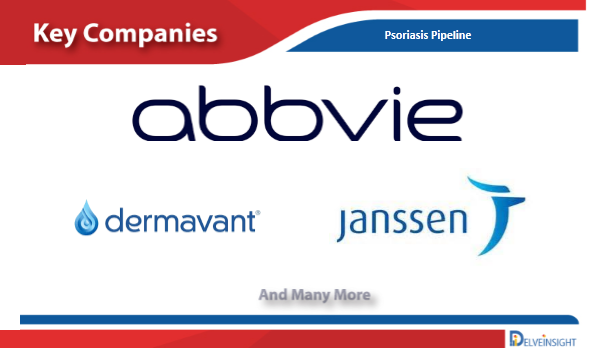 DelveInsight has launched a new report on Psoriasis Pipeline
Psoriasis is a chronic, immune mediated inflammatory skin disease characterized by the presence of papules and plaques occurring most commonly on the elbows, knees, scalp, and lower back, but is not limited to these areas.
Request for free sample copy- https://www.delveinsight.com/sample-request/psoriasis-pipeline-insight
Psoriasis Pipeline analysis across different stages of development (Phase III and Phase II), different emerging trendsand comparative analysis of Psoriasis Pipeline products with detailed clinical profiles, key cross -competition, launch date along with product development activities.
Psoriasis Pipeline
The available therapeutics treatment options in Psoriasis Landscape aim to modulate gene transcription, inhibit cell proliferation and promote keratinocyte differentiation.
Psoriasis Treatment
Although there is no cure for psoriasis, there are multiple effective treatment options and topical therapy is the standard of care for treatment. Mild to moderate psoriasis can be treated topically with a combination of glucocorticoids, vitamin D analogues, and phototherapy. Systemic treatment is required in moderate to severe cases. Despite its considerable effect on quality of life, psoriasis is underdiagnosed and undertreated. Better understanding of the disease and increase in available treatment options will aid in optimal management and improve patient outcomes in coming years.
Marketed drugs included in the report
Humira: Abbvie
Stelara: Jannsen
Emerging drug included in the report
Tapinarof (DVMT-505): Dermavant Sciences
Psoriasis Report Scope
The Psoriasis report provides an overview of therapeutic pipeline activity and therapeutic assessment of the products by development stage, product type, route of administration, molecule type, and MOA type for Psoriasis across the complete product development cycle, including all clinical and nonclinical stages.
It comprises of detailed profiles of Psoriasis therapeutic products with key coverage of developmental activities, including technology, collaborations, licensing, mergers and acquisition, funding, designations and other product-related details
Detailed Psoriasis research and development progress and trial details, results wherever available, are also included in the pipeline study.
Coverage of dormant and discontinued pipeline projects along with the reasons if available across Psoriasis.E
Request for free sample copy- https://www.delveinsight.com/sample-request/psoriasis-pipeline-insight
Table of content
1. Report Introduction
2. Psoriasis
3. Psoriasis Current Treatment Patterns
4. Psoriasis – DelveInsight's Analytical Perspective
5. Therapeutic Assessment
6. Psoriasis Late Stage Products (Phase-III)
7. Psoriasis mid Stage Products (Phase-II)
8. Early Stage Products (Phase-I)
9. Pre-clinical Products and Discovery Stage Products
10. Inactive Products
11. Dormant Products
12. Psoriasis Discontinued Products
13. Psoriasis Product Profiles
14. Psoriasis Key Companies
15. Psoriasis Key Products
16. Dormant and Discontinued Products
17. Psoriasis Unmet Needs
18. Psoriasis Future Perspectives
19. Psoriasis Analyst Review
20. Appendix
21. Report Methodology
Related Reports
Media Contact
Company Name: DelveInsight Business Research LLP
Contact Person: Yash Bhardwaj
Email: Send Email
Phone: +919650213330
Address:304 S. Jones Blvd #2432
City: Las Vegas
State: NV
Country: United States
Website: https://www.delveinsight.com/